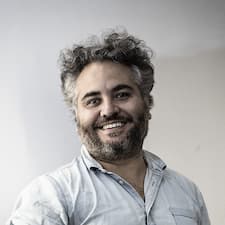 Diego Landivar is the co-founder of the MSc Strategy and Design for the Anthropocene, teacher-researcher at Esc Clermont BS and director of Origens Media Lab.
He co-founded the Closing Worlds project. He is responsible for the design studio Graphlab (Esc Clermont BS). PhD in Development Economics (CERDI-CNRS), he is also an alumnus of the Ecole Normale Supérieure de Paris-Saclay.
His work focuses on the ontological and cosmopolitical reconfigurations induced by the Anthropocene, from an anthropological perspective. These questions have led him to investigate cosmopolitical reconfigurations in the Andean countries, the law of nature and of non-humans, Indianism, the status of technical objects, controversies around ecological transition, territorial ontologies, and the decolonization of Mars.
His teachings concern the South of the Anthropocene, the protocols of investigation of the Anthropocene, the anthropology of the project and the protocols of redirection.
He accompanies different territories and organizations in implementing Ecological Redirection.
Designer and urban planner, co-founder of Collectif TAMA (relational design agency), I have been conducting for 10 years an action-research in sensitive cartography which is defined as the design of media for the restitution of the experience of the territory. During 3 years as the main teacher of the Master Design for Smart Cities at Strate Paris, I trained students on user-centered urban design, which I call UX urban design.
I give lectures in France and abroad on these topics, notably at the World Design Summit (Montreal, 2017), Smart Cities Expo (New Delhi, 2018) or at the Center for Architecture and Metropolitan Planning (Prague, 2019, video of the conference in EN).
Following my stay in Montreal I wrote an article entitled "Faut-il décoloniser le design ?".
We published in September 2020 in the magazine Sens-Dessous a manifesto of our practice of relational design entitled "Un regard relationnel sur le monde, la Nature et un jardin".
Marie Leroy is a student in user experience design at the University of Technology of Compiègne (master UxD). With her colleague Eléonore Sas, she seeks to identify and link together the different currents of thought as well as the design methodologies used to face the challenges of the Anthropocene. The results of this research project are then disseminated to designers through the blog of La Boussole des designers.
Previously a work-study student in the field of art direction, her profile is at the meeting point between social sciences and visual creation. The combination of these two areas of expertise allows her to imagine and design multi-sensory experiences that are sensitive and respectful of the different actors involved.