Emilie Ramillien, is an anthropologist, teacher and herbalist. Her research focuses on the frictions and superimpositions of traditional and modern cosmologies in our contemporary worlds. After years of field research in Bolivia on feminist and indigenous resistance to naturalist colonialism, the rights of non-humans, and the political and social trajectories of entities such as the Pachamama, she co-founded Origens research laboratory in 2010. 
Within Origens, she investigates the cosmological transformations induced by the Anthropocene, the questions of human and non-human health in French rural peasantry, mainly through the prism of underground knowledge: permanence, resistance and diplomatic compositions with the living.
She also teaches the mapping of scientific controversies at ESC Clermont after having created, in 2013, the first lessons on the Anthropocene and the ecological crisis.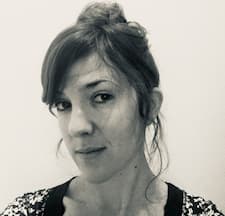 Elodie was educated at the Institute of Political Studies both in Lyon and Paris, and holds a degree in Chinese Mandarin from the East China Normal University. She has been working for large groups (Huawei), international law firms (UGGC), governmental organization (UBIFRANCE), international think tanks (Asia Centre) and engineering consulting firm (IED). From 2011 to 2013, she acted as the Beijing correspondent of the French Council of Investors in Africa, gaining an expertise on China's "resources quest" in Africa. She has also acquired significant professional experience in the renewable energy sector across Asia and Africa. Since April 2017 she has been developing a scientific mediation project on the Anthropocene, GEO-SAPIENS, with the aim of creating bridges between academic researchers, artists, and civil society organizations interested in political ecology. Since 2019, she is undertaking a PhD at the University of Northampton (UK) on the strategic role of "ecological indicators" and digital monitoring tools in sustainability policies in both the UK and China.
2007 - 2010: He worked as a project manager for social link design and sustainable development.
2008: he coordinated the City Eco Lab exhibition on sustainable development for the Saint Etienne International Design Biennial.
2010 - 2013: he ravels to Istanbul (Turkey) and is laureate of the Urban Design competition in Dubai : residence for the cultural service of the Emirates Government " Dubai Culture & Arts authority " with the French Institute of Abu Dhabi.
2013: Project manager at ARDI Rhône-Alpes on the European project Integrate Design for all in Living Lab, he works in research and development and coordinates 23 experiments in Europe.
2015: he returns for five years to the Cité du design's Research Division as a research officer.
In parallel to his professional activity, Nicolas Roesch seeks to de-anthropocenter design, leading to theories on design centered on the living. This research is the subject of courses, conferences and a book currently being written.
PhD student in Economic Sciences at EHESS (CEMS-EHESS) under the direction of Eve Chiapello, he works on monetary spaces, their institutional structuring, and issues related to their governance. This has led him to analyze cryptocurrencies as emerging monetary forms, emphasizing that, far from their primary ideology - aiming to substitute politics with the application of technical and computer rules - these monetary constructions demonstrate, on the contrary, the ontologically political and social dimension at the heart of all currencies.
He was a lecturer at Paris 1 Panthéon-Sorbonne University and from 2012 to 2018 he taught economics and social sciences in an associative high school dedicated to children in difficulty. From 2016 to 2019, he gave a seminar at EHESS entitled "Monetary space(s), parallel currencies, cryptocurrencies and institutional crises". Since 2017, he has also been giving lectures at ESILV and ESGI on currency and crypto-currencies.
Gauthier Roussilhe is a designer and researcher specializing in the environmental footprint of digital technology and sustainable digital design. In addition, he also studies the interaction between the history of economic ideas and design in the context of transition policies.
Before that, he co-runned a design agency from 2013 to 2017 and then directed the interactive documentary Ethics for Design. He then resumed his studies in London at Goldsmiths University to focus his practice and research on climate change and public policy issues.